Loveryatri starring debutants Aayush Sharma and Warina Hussain released on 5th Oct 2018.
Though the movie has newcomers but it did have its share of hype coz of the Bhai connection (Salman Khan). Loveratri is directed by Abhiraj Minawala.
The song Chogada was received well by the audience and the dance of the lead actors was also well appreciated. So did the chemistry of the Garba teacher Sushrut and the NRI girl Michelle actually hit the right chord with the audience? Let check the movie review below.
And for those who haven't watched the trailer, watch it here:
Now that the movie has hit the theaters,here is what the critics and Janta have to say about the movie. tf
https://www.filmcompanion.in/loveyatri-movie-review-anupama-chopra-aayush-sharma-salman-khan/
Movie Review: #LoveYatri

Rating: 2.5 stars

"All-in-all, both @aaysharma and @Warina_Hussain have made decent debuts. A little more polish and a better choice of films will surely see them shine in future."https://t.co/pZTeBLS9zo

— Filmfare (@filmfare) October 6, 2018
There are 2 types of investments :
Short term Investment
Long term Investment

The Bollywood movie #Loveyatri is a perfect example of Long term Investment 😉

— Atul Khatri (@one_by_two) October 3, 2018
REVIEW: #LoveYatri is a 90s film being released in 2018. My take: https://t.co/c7WxFqFcr5 pic.twitter.com/5TfUTb8VVY

— Anupama Chopra (@anupamachopra) October 5, 2018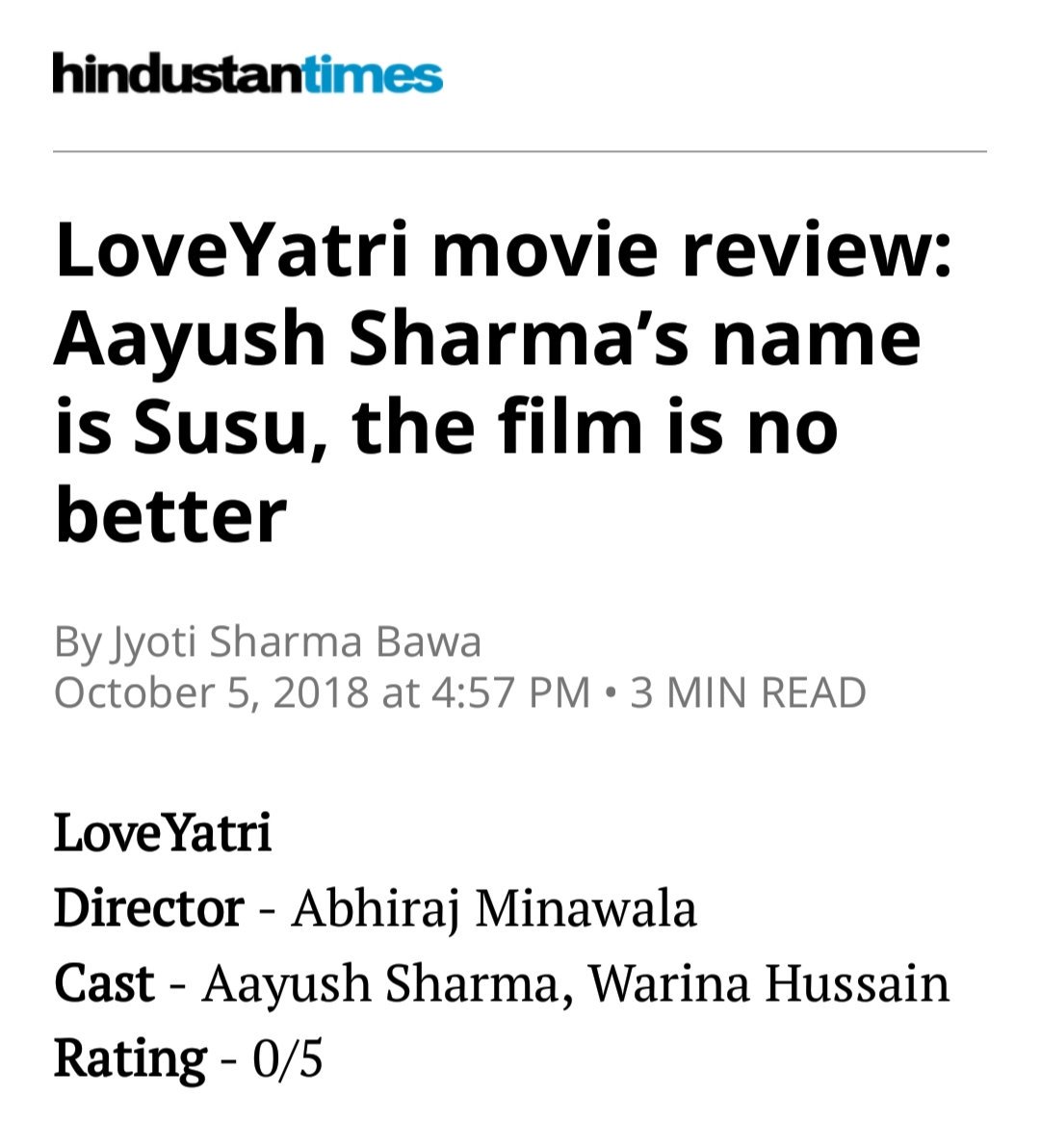 #LoveyatriReview: #AayushSharma film is devoid of passion and spirithttps://t.co/Gj2VocS5hP pic.twitter.com/2nUmGoWfUV

— India Today Showbiz (@Showbiz_IT) October 6, 2018
Check out the public review of @aaysharma and @Warina_Hussain 's #LoveYatri. pic.twitter.com/KU0vVfyaPe

— Filmfare (@filmfare) October 5, 2018
Cant bear this torture #LoveYatri so walking out after finishing first half of the film. Watch it for epitome of disastrous acting. Rating-🥚

— Sumit kadel (@SumitkadeI) October 5, 2018
Have you watched the movie yet ? Send in your views on the movie in the comments below.
To Follow us, Click:
To Share this post click: